Achieving the targets California has set for electric vehicle use will require significant investment in infrastructure and recalibration of how and when vehicle owners use energy to avoid bills. utilities and help protect the state's electricity grid.
Governor Gavin Newsom announced last fall that all passenger cars and trucks sold in the state must be zero emissions by 2035. The goal will require a big change for California drivers, more than 85% of whom still drove gasoline and diesel vehicles in 2019 , according to the California New Car Dealers Association's California Auto Outlook.
The California Air Resources Board traced at the end of May additional requirements for ridesharing companies, which must use electric vehicles for at least 90% of all kilometers driven by 2030.
"California plans to use the tariffs to encourage charging behaviors that will help the state electrify transportation while reducing grid carbon emissions and saving taxpayers and drivers money," said Patty Monahan of the California Energy Commission. There is great pressure for California drivers to embrace electric vehicles after Gov. Gavin Newsom announced last year that the state would no longer allow the sale of gasoline and diesel vehicles by 2035.
Smith / Gado / Getty Images Collection
To achieve these goals, the California Energy Commission (CEC) Senior Commissioner on Clean Transportation, Patty monahan, an estimated 8 million electric cars and passenger trucks will be needed by 2030, along with around 1.2 million chargers to power them.
"It's really going to involve a massive increase," Monahan said Newsweek. California currently has about 70,000 chargers and funding for another 120,000, Monahan said, but large investments in electric vehicle infrastructure will still be needed to meet state goals.
The CEC is responsible for assessing California's energy needs and has been tasked with identifying the types of investments that will be needed to meet Newsom's 2035 deadline. There are many changes to be made over the next 13 years, but Monahan said she is confident the state will succeed.
"This is really the scale of zero emission vehicle infrastructure: ensuring we have the right investments in battery electric vehicles and fuel cell electric vehicles to deal with the vehicle transition. combustion engine towards an electrified transportation future, "said Monahan.
"I am convinced that a combination of public-private investments can put us on the right track to be able to achieve these goals," she added.
Newsom's latest budget proposal includes $ 1.5 billion for electric vehicle infrastructure. In addition to the spending suggested by Newsom, Monahan said there also appears to be an "appetite" within the state legislature to support the push for electric vehicles.
Access to chargers is another piece of the puzzle that Monahan has said the CEC is "laser focused on", as are the state's Air Resources Board and the California Public Utilities Commission. According to National Renewable Energy Laboratory (NREL) researcher Matthew Moniot, ensuring all California residents have access to electric vehicle infrastructure will be a "huge problem" as the state continues to push for the adoption of electric vehicles. electric vehicles.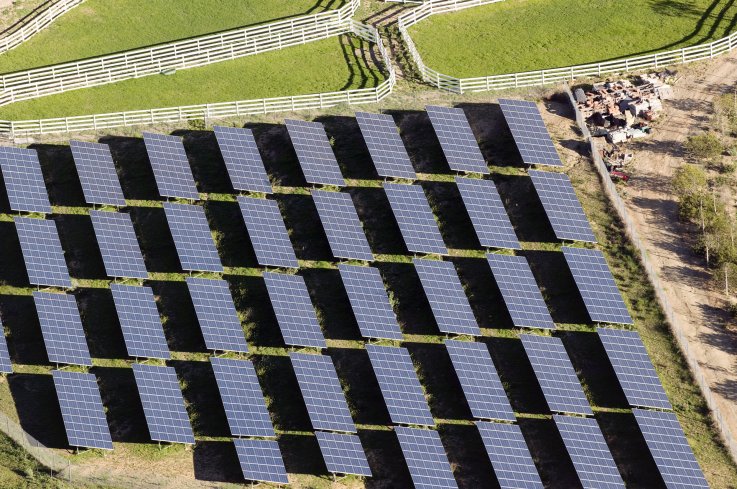 The aerial view of a solar farm in Simi Valley is photographed in California. California leads the country in solar power generation, according to a ChooseEnergy.com assessment.
Sam Lafoca / Construction Photography / Avalon / Getty Images
"Electric vehicles today are disproportionately driven by owners," Moniot said. "This is largely because owners have the money to buy new cars. But also, the experience is much more positive if you have the power to put in a night charging socket."
This is not the case with residents who rent their homes, many of whom do not have designated parking spaces.
"If every car is to be electric, we really need solutions for people who don't have that more reliable overnight parking situation," said Moniot.
The initial purchase of an electric vehicle can also act as a barrier to entry for some California residents, as vehicle prices tend to be higher than their gasoline or diesel counterparts. This price difference is likely to narrow over time as demand for electric vehicles increases and the market thus becomes more competitive, Monahan said.
While electric vehicles have the potential to dramatically reduce California's greenhouse gas emissions –more than half of the state's carbon pollution currently comes from transportation, according to Newsom's office – its use is expected to put pressure on California's electricity grid. According to ReutersThe growing U.S. dependence on electric vehicles will require significant energy investments across the country, with NREL estimating that U.S. power generation will need to double by 2050 to meet demand.
Moniot said Newsweek California has become more energy efficient in recent years with the help of renewable sources like wind and solar power. California produces more solar energy than any other state, says an evaluation by ChooseEnergy.com and President Joe Biden ad at the end of May, an investment in offshore wind projects off the northern and central coasts of California. The projects could provide enough energy to power 1.6 million homes, according to a White House fact sheet.
Monahan said CEC was "super excited" about the power generation potential of offshore wind projects. As investments in renewable energy sources continue to increase, she said it would also be "extremely important" to invest in the storage of this energy so that Californians can have access to it at any time of the day. day.
"This is one of our big goals as a state: to support the storage technologies that we will need in addition to the production technologies, like offshore wind," said Monahan. Newsweek.
As renewable energy sources ease some of the strain on California's electricity grid, an increasing number of electric vehicles on the road will increase the pressure.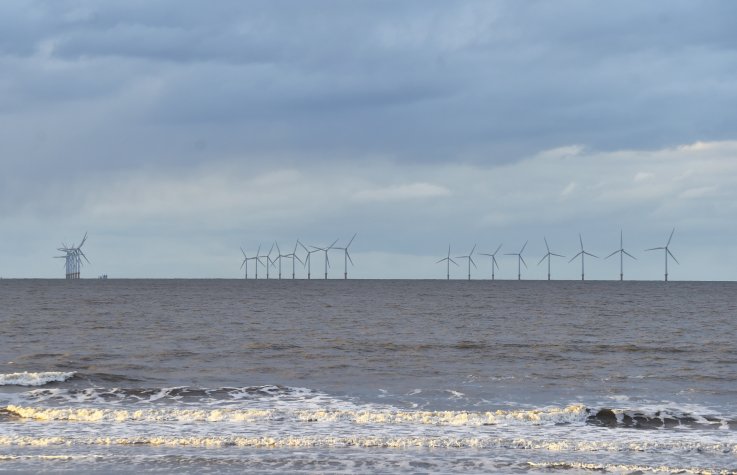 The Burbo Bank offshore wind farm in the Irish Sea is pictured on November 19, 2020 in Wallasey, England. President Joe Biden announced in May that his administration would go ahead with plans for offshore wind projects off California's northern and central coasts.
Nathan Stirk / Getty Images
"Electric vehicles are one of the main sources of load growth," said Moniot. Even so, he said he was optimistic about the state's ability to adapt over the next decade.
"Market disruptions like this are slow – until they are not," he said. He cited as an example the changes in cell phone technology between 2002 and 2012 – a comparison he noted is not straightforward, but still illustrates how markets can change dramatically in a decade. .
As this evolution occurs, finding a new balance for California's electricity grid will be crucial, Moniot said. Many current EV owners who are used to charging their vehicles overnight may need to change their charging behaviors to optimize daylight hours, when more solar and wind power is available.
"You want to make sure that you are balancing the amount of energy coming into the grid versus the energy coming out of the grid," Moniot said. "As long as you've trained the drivers and the customers – which is going to be a tough part – there's a lot of room for EVs to participate in this balancing act in a positive way."
The ability of drivers to be flexible about when and how to charge their vehicles is another reason Moniot said widespread access to chargers would be crucial.
"If you don't have a home charger or a workplace charger, you can't participate in this flexibility game as much as those with ubiquitous access to infrastructure," Moniot said. "Investing in more holds is almost always a good thing."
Monahan said Newsweek the tariffs of public services will also be essential to create new consumption behaviors.
"Charging behaviors are important to the goals of the California grid," she said. "By encouraging, primarily through tariffs, billing behaviors that capitalize on renewable energy production, we fundamentally have a victory for the grid, and we have a victory for drivers in terms of reduced tariffs.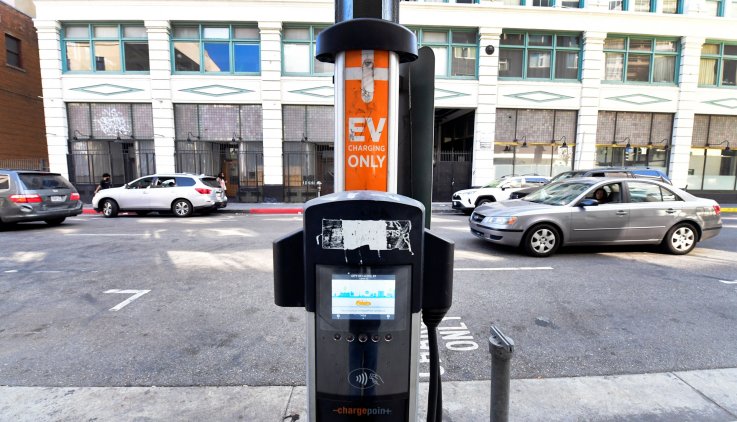 A driver walks past an electric vehicle charging station in Los Angeles, California on May 18, 2021.
FREDERIC J. BROWN / AFP via Getty Images
Monahan described utility tariffs as a "climate strategy" that California can use to encourage charging behavior that will ease the anticipated strain on the state's electricity grid.
"California plans to use tariffs to encourage charging behaviors that will help the state electrify transportation while reducing grid carbon emissions and saving taxpayers and drivers money," a- she declared. Newsweek.
Although Monahan has said it is possible to meet the deadlines for electric vehicles facing California, a serious increase in infrastructure investment will be needed to put the thinking into action.
"I'm afraid we don't have enough infrastructure to be able to do it in the time we need," Monahan said. "We really need to start investing smartly in infrastructure."
She reiterated the importance of ensuring that electric vehicle infrastructure is in place for all communities, regardless of home ownership. "This is a huge opportunity, so let's not lose this opportunity, lose our momentum, because we don't have enough infrastructure to meet the need."
Despite his concerns about the timing, Monahan said support for the push for electric vehicles so far away from the state government and the Biden administration was a promising sign.
"I feel optimistic," she said.
Source link